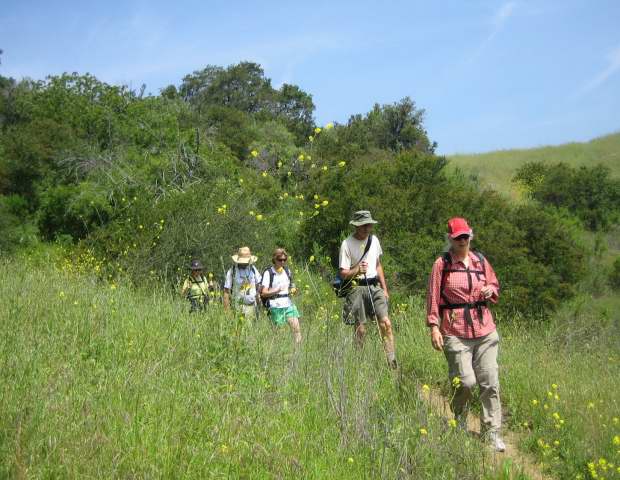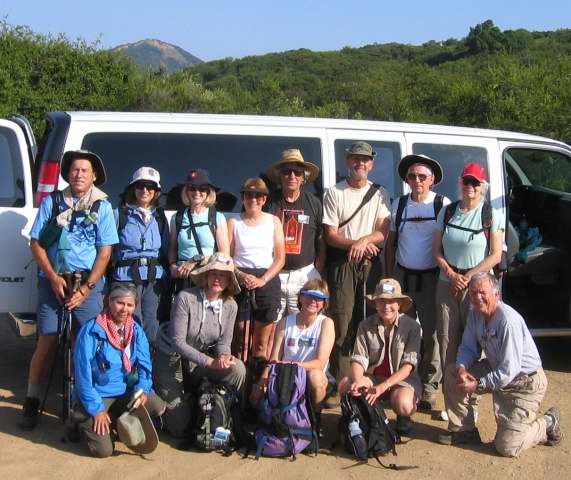 The group poses with their transportation at Latigo Canyon Road Trailhead.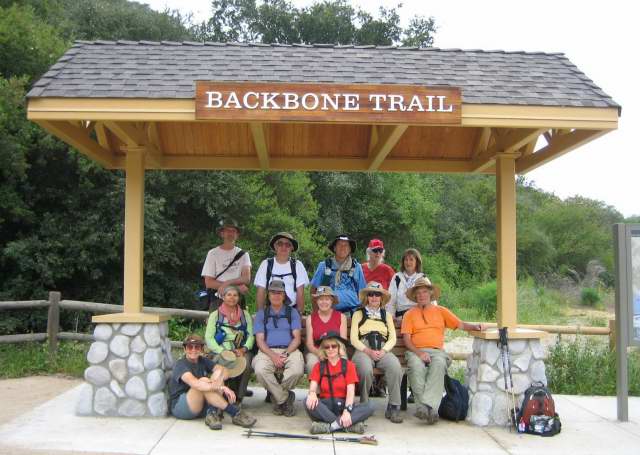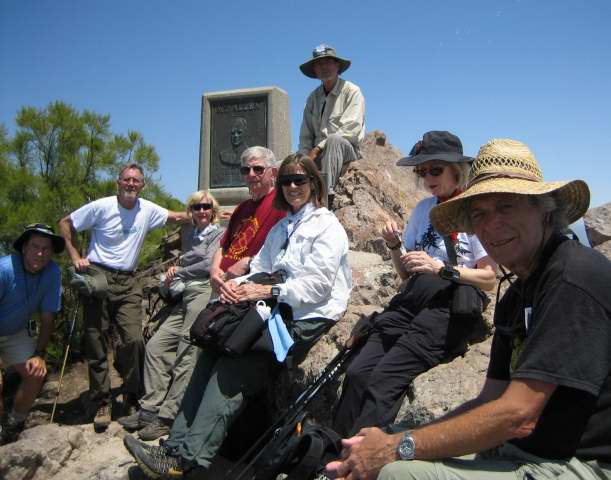 The trekers added a short spur hike up to the top of Sandstone Peak, highest point in the Santa Monica Mountains at 3,111 feet.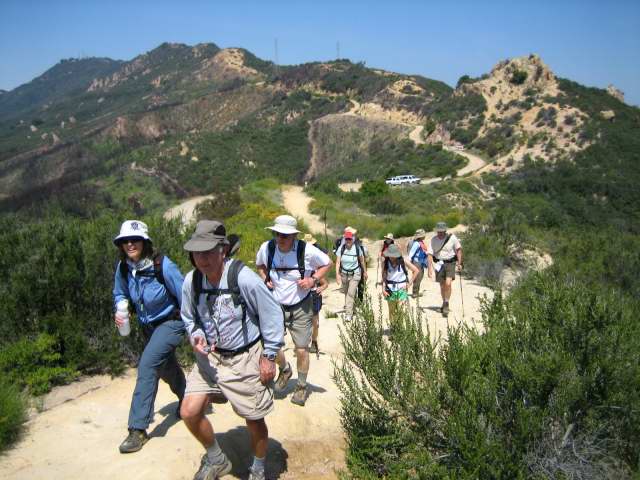 Leaving Corral Canyon the hikers head for camp at Malibu Creek State Park.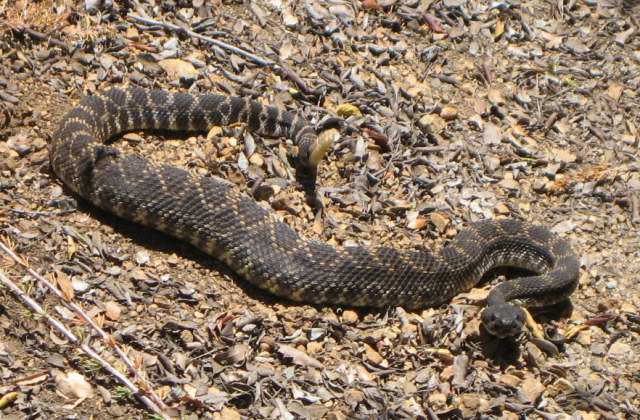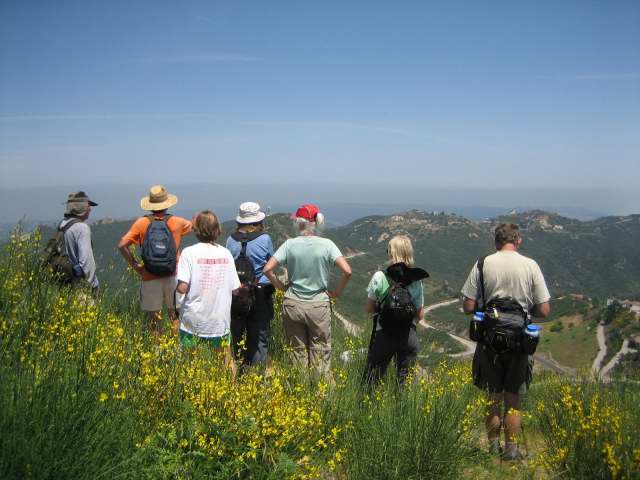 Enjoying the view is part of the fun.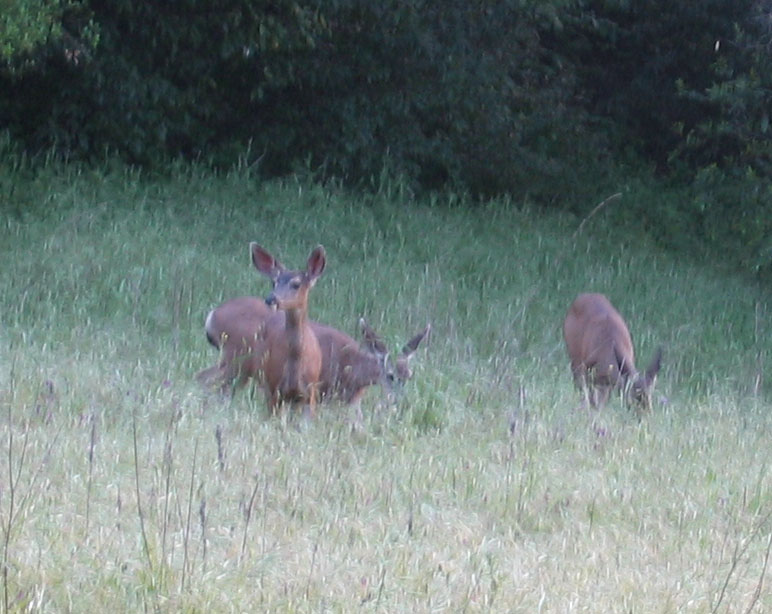 Deer at Malibu Creek State Park Group camp area (photo by Ed Stauss).


SMMTC News
Trekers Traverse the Entire Backbone Trail
By Ed Stauss
Photos by David Edwards
May 20, 2006
Eleven hikers completed the 6th seven-day trek along the Backbone Trail of the Santa Monica Mountains. Starting at the trail's western end in Point Mugu State Park with a campout on Saturday evening, May 6, 2006, they journeyed, according to a GPS log, 66.85 miles, while ascending 13,273 feet, completing their trek on Saturday, May 13, with lunch at Will Rogers State Historic Park off Sunset Blvd. in Pacific Palisades. Of the 11 hikers who completed the trek, seven were women. The two leaders were a male and a female.
This was the first Backbone Trek in which trek organizer Milt McAuley did not hike although he attended the evening meal at Calamigos Ranch on Tuesday, May 9. McAuley had led the first three treks in the years 2000 through 2002. In 2003 and 2004 McAuley led only the first day while other experienced hikers took turns in the head position. Burt Elliott led Trek 2006 for the entire route while Diane Savage was trail sweep and safety. The Trek was not performed in 2005.
In addition to awesome views from mountain ridges and the intimate beauty of canyons, the hikers observed 195 different species of flowering plants and several wildlife types including grazing deer with fawns, a horned lizard and other lizards and two rattlesnakes.
The team of volunteers which made the trek possible for the paying hikers include the following:
Ruth Gerson, Santa Monica Mountains Trails Council President
Annie Salerno, Hike Coordinator
Burt Elliott, Hike Leader
Mel Savage, Wrangler
Diana Savage, Sweep/Safety
Ed Stauss, Shuttle Driver
Frank Padilla, Logistics Coordinator
Betty Snow, Food Coordinator
Linda Palmer, Planning Committee Member
Lylene Sheets, Ruth Gerson, Linda Palmer, Jeanne Wallace, Georgia Farinella, Sharon Shorer: Guest Cooks
Personal Views of the Trek Experience
As they concluded their hike, the participants provided the following notes:

Planning for the Hike
Most important tip from Milt: Make three piles: Daily Use, Frequent Use and Might Use. (Dave made 10 piles; whatever anyone needs, he has.)
Three-leg stool for breaks (weighs only a pound)
Ida's new hiking clothes
Climb stairs and do leg presses
Do day hikes on the Backbone Trail
"China Bags" are the best hiking luggage
Practice tent setup; can you do it in three minutes? Joanne can.
Practice cleaning out debris from tent.
How many bags can you lug to the campsite?
First timers need to be told to bring a sunshower, a ground cloth.
Put all your gear in a big duffle, preferably a rolling one.
Send Dave a list of the equipment you would like him to bring for you.
Lots of baby wipes/wet ones
Advil and Aleve for the aches
Hiking Experience
Uphill, downhill, grunt! Only two more miles, really?
No stick, one stick or two sticks?
Slathering on sunscreen
Don't forget mosquito spray; Technu might be helpful.
Ticks, poison oak
Mugwort grows along poison oak and serves as an antidote
Burt searching for flowers - 92 species the first day
Time for a split break; skirts up, zippers down (i.e., ladies up the trail, men down the trail.) Okay, start your engines, gentlemen, the ladies are done and ready to go.
Rattlesnakes, Burt finding a snake at our first campsite, La Jolla Group Camp, Two more on the trail. Dave, the snake protector guided us past them. Loud rattler!
Sore feet, blisters. Which is better, moleskin or second skin?
Jim's knee problem. (Jim, the twelfth hiker, dropped out in the second day.)
Picnic lunch in the shade find the best shady seat.
If you like to smell the roses, drop back to the sweep.
Gratitude to all those who build and maintain the trails
Beautiful views
Three-inch-wide tarantula
Camping Experience
One hairdryer for 10 women
Doe with two fawns appeared at sunset and in the morning at Malibu Creek Group Camp.
It was raining worms! (Caterpilars which dropped from trees in the camp)
Next time bring a dust buster to clean out tents
Heavy fog at Circle X camp
Bed by 8:00! Do we really have to wait for the sun to set?
Slipping out of sleeping bag: importance of finding a level campsite. Next time bring a yoga mat and carpenters level
Showering in the dark
How close can I set up my tent to the toilet?
Are there gophers under my tent?
Reorganizing my tent and bags everyday
Bring your own dishes and utensils
Sharing food preparation and cleanup
Making lunches to take in our backpacks
Ida sitting in the sun to dry her hair
Solar showers
Hot days, cold nights
Singing songs around the camp fire at Calamigos
Wet grass at Calamigos
Lugging our equipment to and from the truck at each camp
Afternoon naps and reading before dinner
Jim's primitive fire making
Lazuli bunting (a blue bird of the cardinal family) spotted by Margie near Malibu Creek Group Camp
Unexpected Pleasures
Group bonding
Annie's Peach pancakes
Annie's 7-layer dip and Betty's homemade guacamole
Meeting Milt
Watching Cynthia's red tailed hawk eat a quail
Banana split night
Meeting Ruth and Grant Gerson and staying at Calamigos Ranch
Going through the split at Chamberlain Rock, leaving bad karma behind
Crawling through the eye of the elephant near Corral Canyon Trailhead
Lunch at abandoned home site overlooking old swimming pool in Corral Canyon
Our support staff Annie, Betty, Patrick, Mel, Ed
What a welcome sight the big white van and our driver Ed
Bailey's Irish Cream with the after dinner coffee
Survival expert Jim who taught us what to eat from the trail, start a fire and make soap
Dave and Wanda having all the camping essentials we may have forgotten
Wonderful camaraderie, one of the greatest groups of people I have ever had the pleasure of spending time with
Being able to remember some of the many flowers we saw along the trail
Burt's stories
Lunch on the trail not unexpected but a great thing!
Seeing the large tarantula on the trail
Being buzzed by a helicopter near Corral Canyon