Plant Description
| | |
| --- | --- |
| Common Name(s): | Fire Heart, Bleeding Heart |
| Scientific Name: | Ehrendorferia ochroleuca |
| Family: | Papaveraceae (Poppy) |
| Plant Type: | Perennial |
| Size: | up to 15 feet! |
| Habitat: | Chaparral, Oak Woodland |
| Blooms: | April to December |
| Fire Response: | Stump Sprout or Seed |
<!— Yellow Bleeding Heart —>
Ehrendorferia ochroleuca is associated with a few common names - white bleeding hearts, yellow bleeding hearts or my preference fire heart. This member of the Poppy family is a fire-follower and does not germinate without being exposed to smoke. The 2013 Springs Fire brought this plant back from seeds stored in the soil. After a couple of years we are unlikely to see this plant until the next fire. [Note: Saw large quantities of these after the Woolsey Fire!]
The flowers on this perennial herb are white with a beautiful filling of red - it is the two inner petals which are joined at the tip that have the red filling . All parts of the plant are toxic. The bright red color in the petal is a draw for Hummingbirds. This plant blooms well after the first flowers of Spring - May to June. Look for this in the canyon bottoms of Sycamore and Blue Canyon (Pt. Mugu State Park) all the way to the summit of Boney Mountain! I saw this plant in late June while hiking Upper Sycamore Canyon in Point Mugu State Park. Lastly, this plant is endemic to California - it grows nowhere else!
---
Fire Response: Smoke - or at least some chemical in smoke causes germination to occur. From the spring of 2019 thru the spring of 2020 these flowers covered the slopes of the areas burned by the Woolsey Fire. Their dried stalks persisted thru into 2021. Judging by the amount of plants that did bloom after the fire, the charred earth must have been chock full of their seeds.
---
Our plant of the month grows leaves from the flower stalks as well as the base. In comparison, other Bleeding Heart flowers of the Genus Dicentra have leaves in a basal rosette with flowers on leafless stalks. Basal rosette means the leaves grow in a circular arrangement from the base of the plant.
The leaves of this plant are pinnately divided 2-4 times - according to Wikipedia: pinnately refers to the arrangement of feather-like or multi-divided features arising from both sides of a common axis.
---
Name Origin: This plant was named after Friedrich Ehrendorfer a 20th Century Austrian Botanist. Ochroleuca means yellowish-white. This used to be known as Dicentra Ehrendorferia but was changed during a re-classification.
---
Other Featured Plants in the Papaveraceae (Poppy) Family: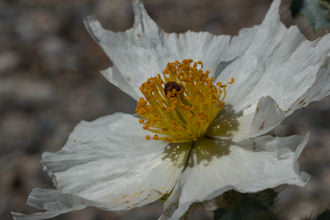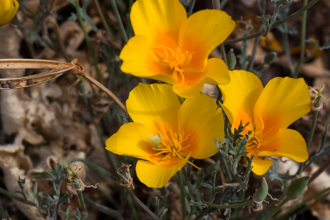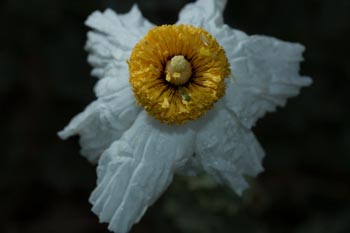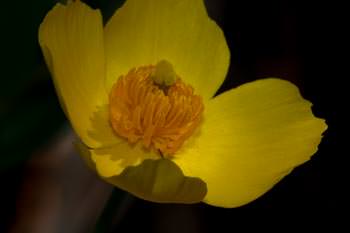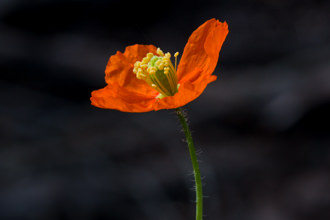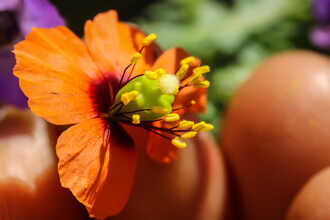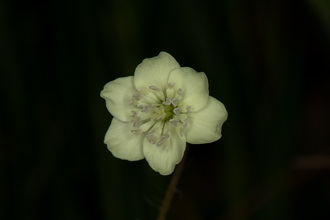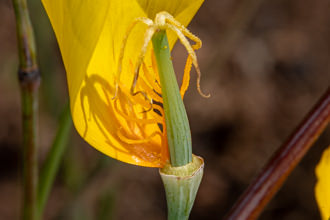 ---
Fire Heart, Bleeding Heart - Originally featured: August 2014
Last modified: March 12 2021 08:44:40.
References:
Wildflowers of the Santa Monica Mountains
, by Milt McAuley
Flowering Plants: The Santa Monica Mountains, Coastal and Chaparral Regions of Southern California
, by Nancy Dale
Images
Botanical Terms for Leaves