We had plans this year to work with hundreds of volunteers and to repair many of our trails. COVID-19 changed all of that back in March. Initially trails were closed to the public. NPS, COSCA and State Parks requested that our projects be canceled. For the first time in recent memory, Trail Days was canceled. A sizable chunk of our trail work for the year in Point Mugu State Park normally takes place at that time. Eventually trails were opened up to the public and in late April, NPS allowed our group to begin trail work with a few restrictions - crews of 2-4 people, masks required, tools cleaned after use and social distancing. Jerry and Dave outlined a series of projects on the Mishe Mokwa and Tri-Peaks Trails. The Mishe Mokwa Trail was in bad shape! Our crews moved the trail up and over the rut containing it. Lots of rocks were relocated and drains were built. The finished product was amazing to see and walk upon. Look at the first image - to John's left is the old trail and behind him the new trail.
Late May, State Parks allowed us to begin projects on the consideration that they not be open to the general public. We worked Fireline and Scenic Trails in Point Mugu State Park as well as a segment of the Backbone Trail near Latigo.
After our summer hiatus, we finished working the Serrano Canyon Trail, brushed the Upper Sycamore Canyon Trail and the Blue Canyon Trail. We then split our crew into two crews and began a weekly effort to clear the Chamberlain Trail to the Circle X Boundary. This last effort has required hikes of five miles or more just to reach the work site. Hikers and runners nicknamed this section "the jungle" because of how overgrown this section was. Two volunteers with brush trimmers and one deranged volunteer on hands and knees cutting back the ceanothus, sumac, sugar bush and occasionally overhanging limbs were assisted by two or three other volunteers re-distributing the removed brush. The value of this effort? We watched as a hiker doing their best to avoid the greenbark ceanothus, fell down the slope a moment before we began to address that issue. That will not happen again along this section for awhile. Removing the brush encroaching our trails consumed lots of our time this season! At the same time, our other crew was busy repairing the following trails: Hidden Pond Trail, the BBT near Etz Meloy and a multi Saturday effort on the Fossil Trail. It was nice to complete these trails bottom to to top.
Our Year in Numbers

67 events on trails in the Santa Monica Mountains National Recreation Area

2,591 hours of volunteer labor performed on the trails

15 dedicated volunteers accounted for more than 2,273 hours!

We cleared about 19.5 miles of trail

Our numbers were down year over year but we still got a lot of work done with smaller crews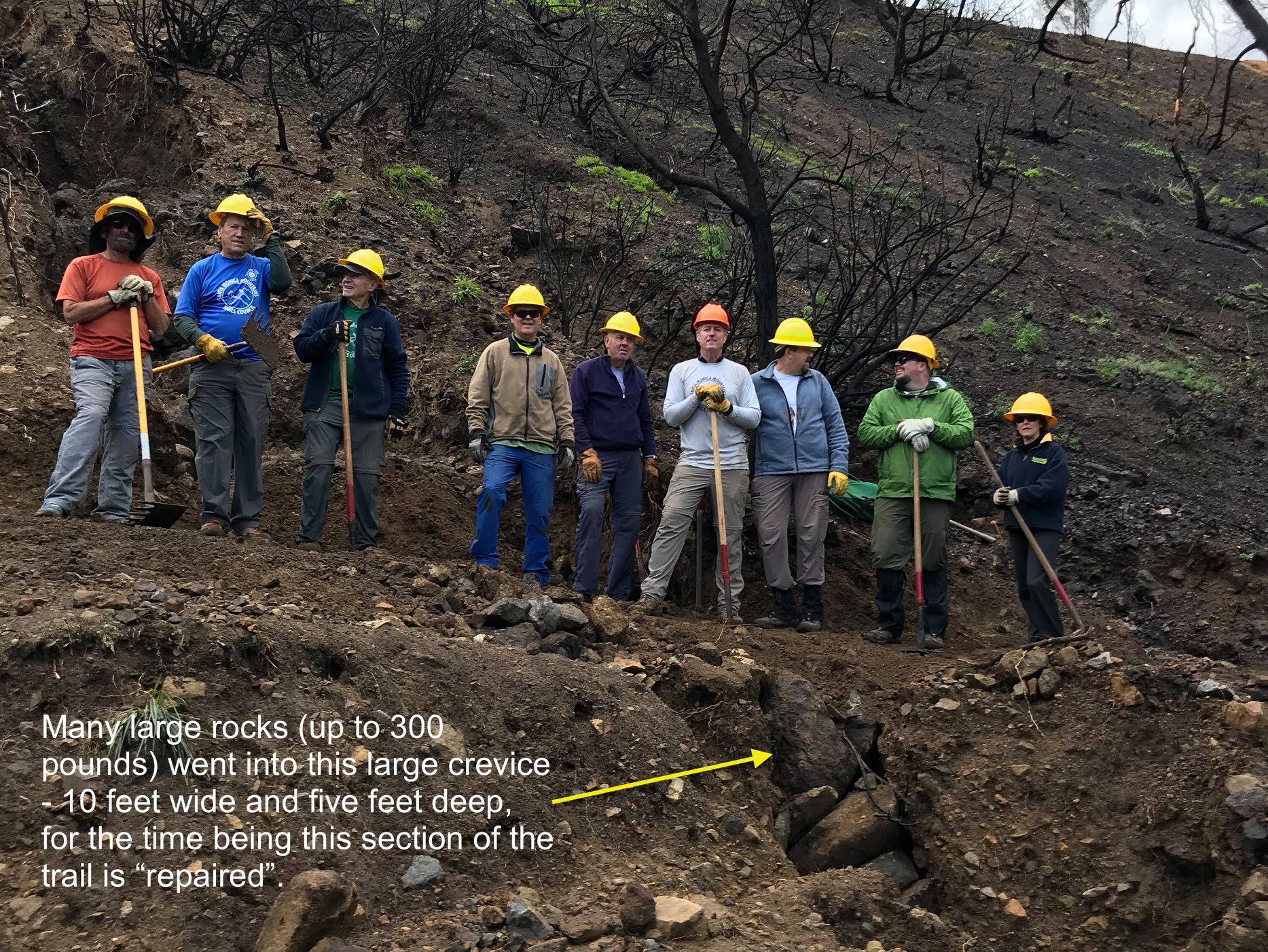 Our crew for the day included: (L to R) Jon, Dave, Dr. Dave, George, Barry, Bill, Greg, Jason, Denise

Norm and Sharon - long time regulars. Jerry, Barry, Barb, John, Don, and the incomparable, Bill D
Why do we work on trails when we could hike them? We do both, because we find a similar enjoyment in trail work.  Creating a drain or out-sloping the tread - requires skill, physical effort, some creativity and provides a boost to your esteem. Watching the water channel off the trail after a rain is rewarding. Watching other trail users move along the trail - unimpeded by the brush you have removed - provides an opportunity to do something for others and to take care of the medium, that adds so much to your life.
The reward of a thing well done, is to have done it - Ralph Waldo Emerson.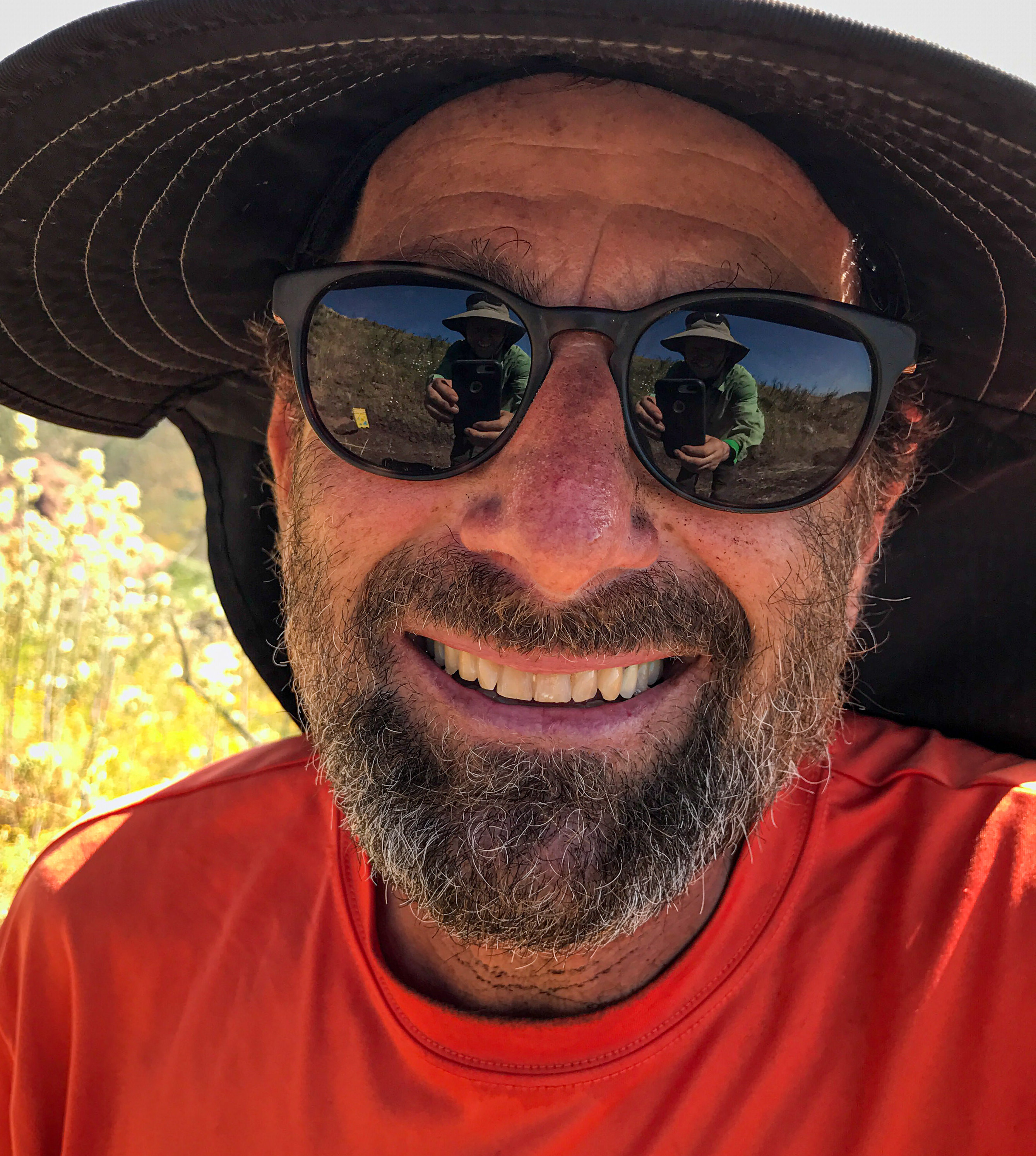 Jon, still smiling after a hard day at work on the trail- in the reflection you can see George. Working on trails is as enjoyable as hiking them!
Come work with us for an event and you note that the work is satisfying and fun. Work with us three times and there is the possibility that the bond we share as trail workers will be something you want to be part of.  Trail work can be a life changing experience as you learn new skills and view our trails in new ways.