Volunteer opportunities in the Santa Monica Mountains National Recreation Area
---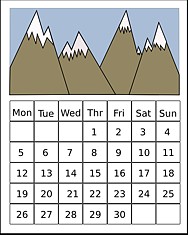 How to use the Google Calendar
In general, using a Google Calendar is pretty straightforward. However, there are a couple of things that aren't obvious, and we'll get to those in a moment.
First, use the icons in the top left corner to select the dates your interested in.

The tabs at the top left are used to set the type of view: a week at a time, a whole month, or the agenda view, which is a list of events in chronological order. These examples show the month view.

Regardless of the type of view you select, clicking on the event time/title will pop up a window with all the details. (If the details are too long to view in a single window, switch to Agenda View and you'll have a scroll bar to see everything). The color of the time/title for each event shows you which calendar/organization is hosting the event.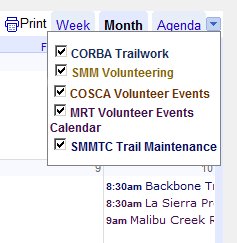 Clicking on the triangle in the very top right corner (

) will drop down a menu that shows the names of the individual calendars that make up this composite. The calendar names are in different colors that correspond to the colors used for the time/title on the calendar. Unchecking the boxes beside the calendar name will hide those events on the composite calendar. To display them again, just drop down the calendar list and recheck the box(es). Note that the colors shown in the image to the right, nor the calendar names, may not be the same as what is displayed on the actual calendar.
Links to the various organizations shown on this calendar are provided at the bottom of this page. You can follow those links to get more information about the organizations and the events they host.

Finally, the Google Calendar button at the bottom right corner is used to add to your own collection of calendars. Clicking on it will open your personal Google Calendars account, and give you the opportunity to include these calendars. Don't use Google Calendars? Then if you click on the button, just close the new window (or tab) that opens up inviting you to log into Google Calendars.
Here is a list of calendars/organizations that make up this calendar: